Covid-19 Community Updates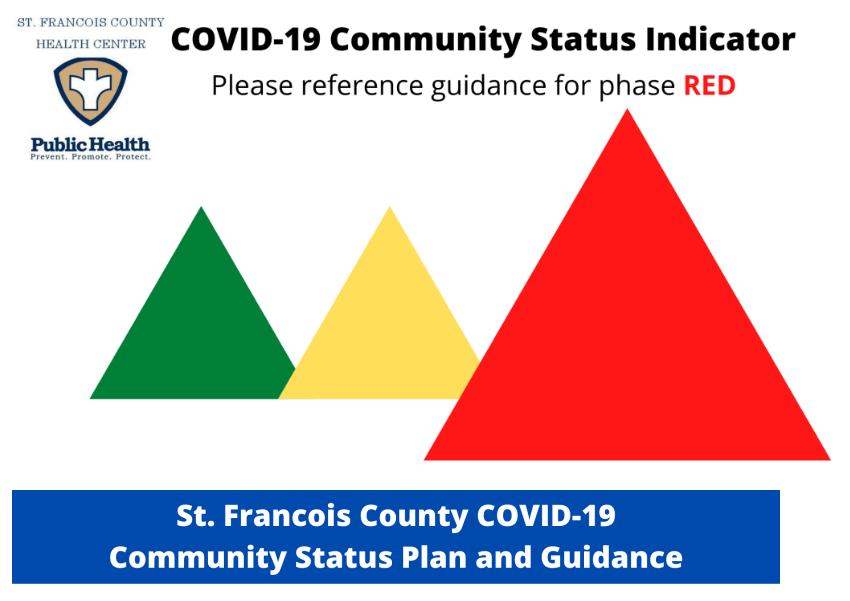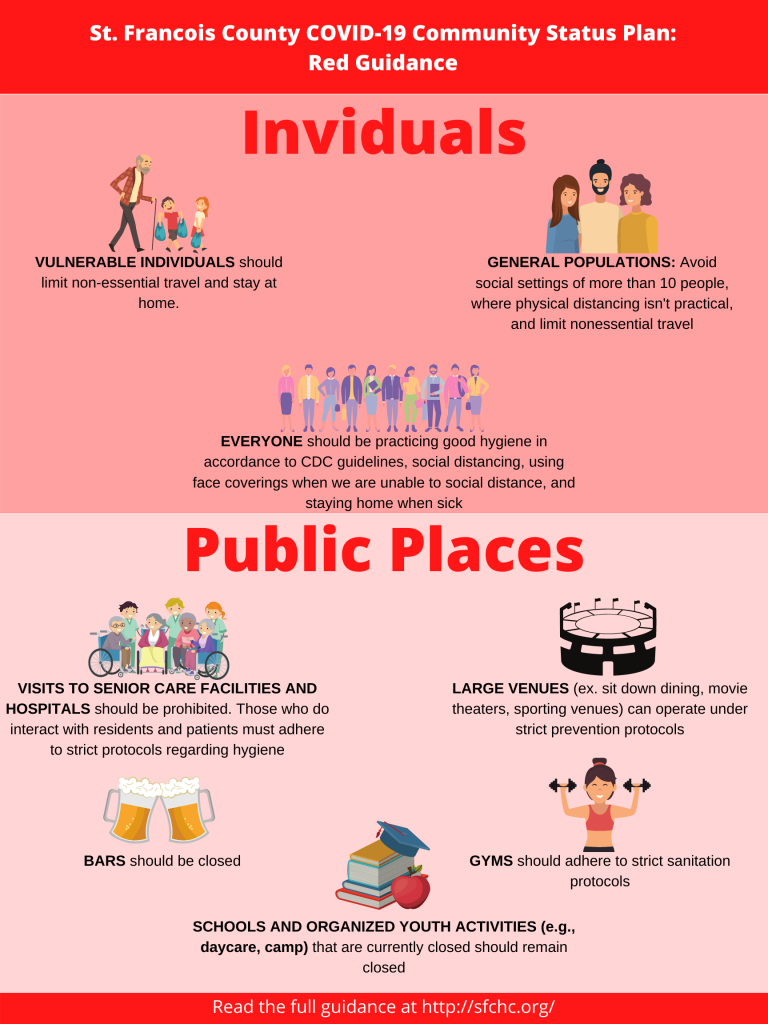 Guidance and FAQs
Parkland Health Center Addresses Increasing Covid-19 Cases & Patient Care (Nov. 20, 2020)
State of Missouri Public Health Warning (Nov. 20, 2020)
Please see the above press releases for the latest Covid-19 updates.
The hospital is nearing capacity. Please see the release below. For this reason, we are moving to red. Please understand these are strong recommendations; not mandates.
In regards to schools, the schools have been open for activities and summer school. This does not mandate closures or delays in the opening of schools.
COVID-19 Sharp Rise Calls for Community Response:
Parkland Health Center and St. Francois County Health Center Join Forces
to Increase Awareness and Decrease Spread of Illness
(FARMINGTON, MO – August 18, 2020) – As confirmed cases of COVID-19 continue to increase
rapidly in our county, leaders at Parkland Health Center and the St. Francois County Health Center are
asking for the community's support in helping to slow community spread of this virus.
In the past week, St. Francois County has seen an increase of nearly 200 confirmed cases of COVID19, and the rate of hospitalizations is rising as well. It is important to note that these newly confirmed
cases are the result of community spread.
"We continue to monitor the number of COVID-19 cases in our county, and are concerned about the
escalation we are seeing throughout our county and our region," said Annette Schnabel, President of
Parkland Health Center. "There are proven steps we can all take, and we need community support to
reduce transmission to prevent a serious impact on our local health care resources. The increase is
already having an impact on hospital admissions, and the rate at which we are seeing community
spread is concerning in terms of our available resources."
The single most effective prevention measure in the absence of a vaccine is wearing a mask to reduce
the spread of the virus in community settings. Many people with COVID-19 have no symptoms and can
spread the virus without even knowing they are infected. Wearing a mask can prevent the spread of
COVID-19 to others.
"Masks are one of the most effective tools we have available to us to help slow the spread of the virus –
particularly when used universally within a community setting. My mask protects you, and your mask
protects me," said Amber Elliott, St. Francois County Health Center Director. "It will take our entire
community working together to slow the spread of COVID-19. With the recent increase in cases in our
county, we want to stress the importance of safety measures to ensure our local healthcare staff remain
safe and able to provide the care our community members need. This includes wearing masks,
practicing physical distancing and effective hand hygiene, and refraining from touching our faces."
It is important to remember that a face mask is not a substitute for social distancing. Individuals should
still stay 6 feet away from others while wearing a mask to help reduce community spread.
Parkland Health Center is part of BJC HealthCare which also includes St. Louis Children's Hospital and
Barnes-Jewish Hospital, the teaching hospitals for Washington University School of Medicine. For
additional information about Parkland Health Center, please call (573) 756-6451 or the physician finder
service at (573) 431-3338 or visit www.parklandhealthcenter.org.
BJC HealthCare
BJC HealthCare is one of the largest nonprofit health care organizations in the United States, delivering
services to residents primarily in the greater St. Louis, southern Illinois and mid-Missouri regions.
Serving the health care needs of urban, suburban and rural communities, BJC includes 15 hospitals
and multiple health service organizations. Services include inpatient and outpatient care, primary care,
community health and wellness, workplace health, home health, community mental health,
rehabilitation, long-term care and hospice. BJC's nationally recognized academic hospitals, BarnesJewish and St. Louis Children's hospitals, are affiliated with Washington University School of Medicine.