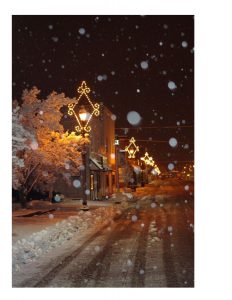 History of the Downtown Development Association
First established as the Uptown Farmington Organization in September 1986. The charter officers were Jack Sebastian, Jerry Nesbit, John Crouch, and Dennis McIntosh. The original Mission Statement was to "preserve, develop and promote the economic, aesthetic, and historic commercial downtown business district.
The organization was redesigned to follow Main Street guidelines in 2001. Jeff Krekeler was president. At that time commitments were received $20,000 each from the IDA and the City of Farmington for three years. Commitments were also made by Ozarks Federal Savings & Loan, First State Community Bank, US Bank, and New Era Bank for $2,000 each for three years.
In 2001 an office was opened at 17 S. Jackson St and Victoria Hays was hired as full-time director and Jackie Hull as her secretary. In March of 2003, the organization downsized to a part-time director with no secretary.
The name was legally changed to the Farmington Downtown Development Association in July 2004.
Organization Main Street Four Point Approach
Economic Vitality - Small Business Support, Engage New Entrepreneurs, Encourage Economic Development, Generate Jobs, Increase Real Estate Values, Increase Sales Tax Revenues
Design - Walk-ability, Building Rehabilitation, Facade Improvement, Beauty, Historic Preservation, Environmental Quality Organization Community Engagement, Volunteerism, Equity Building, Self Managing, Coordination with Local Government
Promotion - Community Identity, Distinctiveness, Local Economy Support, Builds Social Capital,
Builds Community Connectivity