Welcome to the Farmington Regional Chamber
The Farmington Regional Chamber is an independent association of businesses and organizations standing together to grow a stronger regional economy. Our mission is to strengthen business and community in the Farmington region.
Talented local artists are designing and decorating solid wood doors to be displayed outdoors throughout the community and sponsored by local businesses, essentially creating an outdoor museum of local artwork. The DOORS on Tour provides a fun activity for people of all ages while also giving our community a memorable symbol for visitors and residents.
The DOORS are symbolic for our community, the doorway to the Parkland, and for the Farmington Regional Chamber with over 75 years of opening doors for business. The DOORS on Tour will create beautiful photo opportunities for social media posts and is a fun activity that can be accomplished even in times of social distancing.  We believe this will be a great morale boost for our community!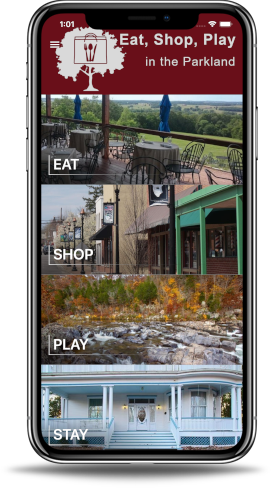 Eat Shop Play in the Parkland
List your business today on the soon-to-be-released Eat, Shop, Play in the Parkland app designed to be used by local residents and visitors to our beautiful community.  All businesses will have the ability to edit their business listing, update hours, list photos, menus, types of services, and may submit push notifications to app users.