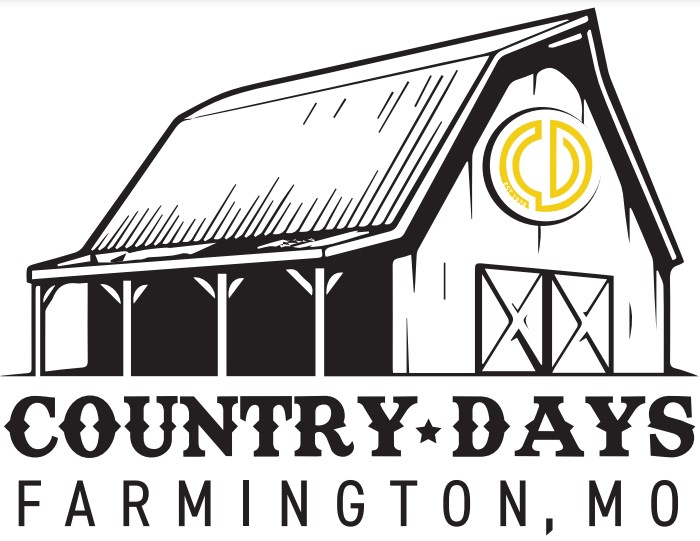 June 2nd - 4th
Country Days presale tickets 7 for $5 available at local banks from April 28-June 2
Sunday ALL DAY wrist bands $20
Country Days Daily Journal Photo Contest!
Country Days Daily Journal Photo Contest--
---
The Daily Journal Photo Contest is BACK with a cash prize for the winner! To enter submit your photo to the daily journal
Young at Heart at Long Park
Young at Heart in Long Park--
---
Long Park will host the Young in Heart in Long Park with free kid's activities and the gazebo stage.
Ozarks Federal Midway Games and Rides
Ozarks Federal Midway Games and Rides--
---
Check out the carnival rides at the Ozarks Federal Midway. Tickets will be available for presale and will be sold at the event. On Sunday you can purchase and unlimited rides wrist band for only $20!
Mr. and Mrs. Country Days
Mr. and Mrs. Country Days--
---
When Gary Romine moved to Farmington in 1979 to teach at Farmington High school, he had no idea how that one move would impact the entire direction of his future.
He encountered a beautiful young woman, Kathy Dement, who was managing the Plank Road Inn, and was a Mineral Area College cheerleader, attending school on the volleyball scholarship, and playing softball. They soon married in 1981 and are now the proud parents of five children and have 13 grandchildren ages 3 to 21.
Gary and Kathy went to launch a business opening, "Show Me Rent-to-Own" for 35 years and operating 25 stores in Missouri with the home office based in Farmington. They have always enjoyed participating in the Farmington Regional Chamber and giving back to the community.
They have both volutnteered with many community organizations. Gary is currently a Mineral Area College Board Member and past president. He has served on the Young Faith in Christ board and was a past president. Most notably, Gary was our state senator from 2013 to 2020 and is currently serving as the chairman of the Miissouri state tax commission.
Kathy is a member of the Help the Hungry Bake Sale committee, the Farmington Ministerial Alliance benevolence board, and a board member for the Farmington eductional foundation and past president of that board.
Gary and Kathy shared, "It is a great honor to be chosen as Mr. & Mrs. Country Days, giving us the opportunity to say thank you to the community that has blessed us so much. We are excited to be part of the Country Days activities and look forward to welcoming everyone to Country Days 2023
Little Miss and Master--
---
The Little Miss and Master Contest will be returning with more cuteness than you can stand! Monies made with this project are returned to the community in a variety of ways. Some of the most recent projects supported were: cooking meals at Ronald McDonald House, helping with purchase of car seats for the Ambulance District, donations to Help the Hungry, Shared Blessings, Camp Hope, A Friend's Place, Farmington Ministerial Alliance, Fire Pup Program donations, cooking and service at MUMS café, various projects for senior citizens and books to the Farmington Library. We thank you for your support of our community!
SERVPRO Country Days Parade
SERVPRO Country Days Parade--
---
The SERVPRO Country Days Parade will be returning on Friday evening at 6 p.m. and the winner of the Parade Grand Marshal for 2022 is East Missouri Action Agency! EMAA provides assistance for struggling families by offering winter weatherization, running the Farmington Senior Center, Uplift Center and many more valuable community programs.
Parade Entry Form
The Summit Shredding Country Days Saloon
The Shed Vapes Country Days Saloon--
---
The Summit Shredding Country Days Saloon is located on W. Columbia between Jefferson St. and Washington St. the main Stage is in the heart of the Saloon area.
Corn Hole Tournament
---
Register here for our Cornhole Tournament
Fireman Hose Battle Contest
Fireman Hose Battle Contest
---
The Wolf Creek Fire Protection District will host a hose battle competition on Saturday June 3rd during the Farmington Country Days Festival. The primary purpose of this event is to advertise the need for volunteers by drawing attention to all of our departments. Teams are invited to sign up by contacting Tom Robinson by text at 636-541-2066 or email at [email protected]. Entry info should include Organization name and team captain name. All team members will be required to sign a hold harmless release prior to partcipatng. Entry is limited to the first 10 teams to sign up. Sign up is requested by May 1st
Opposing 3-man teams will attempt to push a pony keg suspended by a pulley on a cable over their opposing teams head to the end of the cable. YouTube videos of similar events are categorized under waterball.
More information is provided in the application for the contest found below or by clicking here
McDonald's Coloring Contest
McDonald's Coloring Contest
---
Please read through the rules and download the coloring pictures below!
---
3 WINNERS FROM EACH AGE GROUP WILL WIN AN ALL-YOU-CAN-RIDE WRISTBAND FOR SUNDAY AMUSEMENTS
Age groups: 4 years and under, 5 to 10 years
Coloring pages are due Friday, May 26
Each student will receive 2 FREE ride Tickets for submission. One submission per student.
Color Contest Rules
McDonald's is sponsoring the Farmington Country Days Coloring Contest ("Sponsor"). This Contest is governed by these official rules ("Official Rules"). By participating in the Contest, each entrant agrees to abide by these Official Rules, including all eligibility requirements, and understands that the results of the Contest, as determined by Sponsor and its agents, are final in all respects. The Contest is subject to all federal, state and local laws and regulations and is void where prohibited by law.
ELIGIBILITY
The Contest is open to legal residents of the fifty United States and the District of Columbia where not prohibited by law, who are 10 years of age or under at the time of entry. Sponsor has the right to verify the eligibility of each entrant.
CONTEST PERIOD
The Contest begins on May 01, 2023, and ends on May 26, 2023, at 4:00 PM, CST. ("Contest Period"). All entries must be received on or before the time stated during the Contest Period. Sponsor reserves the right to extend or shorten the Contest at its sole discretion.
HOW TO ENTER
You can enter the Contest by bringing your entry to the Sponsor at 302 N Washington St, Farmington MO. You can find the entry form and coloring page on the Farmington Regional Chamber.Com website. Entrants must fill out all required fields on the entry form and submit their coloring page to participate in the Contest. After submitting the required information on the entry form, and your drawing, you will be eligible to win. By submitting your drawing to Sponsor, you are consenting to Sponsor using your drawing for promotional, and/or publicity/advertising purposes.
While Sponsor wants you to have fun with this Contest, and the drawings you submit, please respect certain criteria:
Do not submit drawings that contain language, or images that may be rude or offensive to any person or group.
Do not submit any drawing that is not appropriate for children.
Do not submit any drawing that isn't yours to post.
WINNER SELECTION
Sponsor will choose a winner from all eligible entries received during the Contest Period. The winner will be announced by June 1, 2023, on or about noon CST on Country Days Facebook page. Notification of prize will be sent to the e-mail address supplied on the entry form. Each entrant is responsible for monitoring his/her e-mail account for prize notification and receipt, or other communications related to this Contest. If a potential prize winner cannot be reached by Sponsor within three (3) business days, using the contact information provided at the time of entry, or if the prize is returned as undeliverable, that potential prize winner shall forfeit the prize. Upon the request of the Sponsor, the potential winner may be required to return an Affidavit of Eligibility, Release and Prize Acceptance Form and IRS W-9 form. If a potential winner fails to comply with these official rules, that potential winner will be disqualified. Prizes may not be awarded if an insufficient number of eligible entries are received.
PRIZE:
An All You Can Ride wristband to be used Sunday, June 4, 2023, on Sonshine Amusements carnival rides.
Terms and conditions may apply. Incidental expenses and all other costs and expenses which are not specifically listed as part of a prize in these Official Rules and which may be associated with the award, acceptance, receipt and use of all or any portion of the awarded prize are solely the responsibility of the respective prize winner. ALL FEDERAL, STATE AND LOCAL TAXES ASSOCIATED WITH THE RECEIPT OR USE OF ANY PRIZE IS SOLELY THE RESPONSIBILITY OF THE WINNER.
ADDITIONAL LIMITATIONS & WAIVERS
No substitution or cash equivalent of prizes is permitted. Sponsor and its respective parent, affiliate and subsidiary companies, agents, and representatives are not responsible for any typographical or other errors in the offer or administration of the Contest, including, but not limited to, errors in any printing or posting or these Official Rules, the selection and announcement of any winner, or the distribution of any prize. Any attempt to damage the content or operation of this Contest is unlawful and subject to possible legal action by Sponsor. Sponsor reserves the right to terminate, suspend or amend the Contest, without notice, and for any reason, including, without limitation, if Sponsor determines that the Contest cannot be conducted as planned or should tampering or unauthorized intervention, technical failure or other cause beyond Sponsor's control corrupt the administration, security, fairness, integrity or proper play of the Contest. In the event any tampering or unauthorized intervention may have occurred, Sponsor reserves the right to void suspect entries at issue. Sponsor and its respective parent, affiliate and subsidiary companies, agents, and representatives, and any telephone network or service providers, are not responsible for incorrect or inaccurate transcription of entry information, or for any human error, technical malfunction, lost or delayed data transmission, omission, interruption, deletion, line failure or malfunction of any telephone network, computer equipment or software, the inability to access any website or online service or any other error, human or otherwise.
Sponsor does not encourage and shall have no liability for the submission of any drawings or other third-party content ("Third Party Content") which infringes the rights of any third party, violates any law or other legal authority, is false and/or misleading in any manner. By viewing the Page, you acknowledge that any content uploaded by anyone other than Sponsor is the creation/views/responsibility of the submitter, and not Sponsor. Notwithstanding, Sponsor reserves the right, but assumes no obligation, to remove any Third Party Content in its sole discretion.
INDEMNIFICATION AND LIMITATION OF LIABILITY
BY ENTERING THE CONTEST, EACH ENTRANT AGREES TO INDEMNIFY, RELEASE AND HOLD HARMLESS SPONSOR AND ITS PARENT, AFFILIATE AND SUBSIDIARY COMPANIES, ADMINISTRATOR, ADVERTISING AND PROMOTIONAL AGENCIES, AND ALL THEIR RESPECTIVE OFFICERS, DIRECTORS, EMPLOYEES, REPRESENTATIVES AND AGENTS FROM ANY LIABILITY, DAMAGES, LOSSES OR INJURY RESULTING IN WHOLE OR IN PART, DIRECTLY OR INDIRECTLY, FROM THAT ENTRANT'S PARTICIPATION IN THE CONTEST AND THE ACCEPTANCE, USE OR MISUSE OF ANY PRIZE THAT MAY BE WON. SPONSOR AND ITS PARENT, AFFILIATE AND SUBSIDIARY COMPANIES DO NOT MAKE ANY WARRANTIES, EXPRESS OR IMPLIED, AS TO THE CONDITION, FITNESS OR MERCHANTABILITY OF THE PRIZE. SPONSOR AND ITS PARENTS, SUBSIDIARIES, AFFILIATES, ADVERTISING AND PROMOTIONAL AGENCIES, AND ALL THEIR RESPECTIVE OFFICERS, DIRECTORS, EMPLOYEES, REPRESENTATIVES AND AGENTS DISCLAIM ANY LIABILITY FOR DAMAGE TO ANY COMPUTER SYSTEM RESULTING FROM ACCESS TO OR THE DOWNLOAD OF INFORMATION OR MATERIALS CONNECTED WITH THE CONTEST.
PUBLICITY
By participating, each entrant grants Sponsor permission to use his/her name, submission, likeness or comments for publicity purposes without payment of additional consideration, except where prohibited by law. Sponsor will NOT use the likeness of any minor without express, written permission from a parent or guardian.
Submission of any Content grants Sponsor and its agents an unlimited, worldwide, perpetual, license and right to publish, and use, in any way, in any and all media now known or hereinafter developed, without territorial, time or other limitation, for commercial, advertising/promotional or any other purposes, without consideration to the submitter.
By downloading the coloring contest pages, I agree that I have read and agree that my child is eligible to participate and I agree to abide by all rules listed above.
Sydenstricker Nobbe Partners Kiddie Tractor Pull
Sydenstricker Nobbe Partners Kiddie Tractor Pull
---
Pedal Power Pull Rules
The contest will be held on Saturday, June 3, 2023 beginning at 9 a.m. on the Farmington Firehouse driveway.
Contestants must be 4-7 years of age only and will be entered into their competition class based on the age they are on the day of the pull.
All equipment, including pedal tractors, will be furnished.
No entry fees required
Contestants must be able to pedal the tractor without any assistance.
All contestants are required to wear shoes.
Contestants will be divided into 2 classes by weight, with the maximum weight of 80 pounds
Whoever pulls the weighted sled the greatest distance in his/her age group will be the winner of that age group.
Each contestant must submit this completed form with their parent or guardian's signature.
Parent or guardian must be present at all times during the competition.
All contestants will be given 3 chances to move the sled forward from the starting line.
The pulling tractor must stay between the white lines of the pulling lane at all times.
If the tractor leaves the pulling lane, the distance will be measured from the starting line to the point where the tractor crossed the lane boundary.
In case of a tie, there will be a pull-off to determine the winner.
Length of pull is measured at the point that the forward motion stops.
The judge's decision will be final on all pulls.
Medals will be awarded to 1st – 3rd place winners in each group.
Country Days Fun Goes On and On
Country Days Quilt Show

Downtown Merchant Days on Friday afternoon

Heritage

 

Tractor Show

Lead Belt Jeepers Show & Shine

Historic Long House Tours
Line Dancing

Little Caesar's Moonlight Bike Ride

Ozarks Federal Midway is open Friday-Sunday

Sam Scism Ford Country Days Car Show

The Shed Vapes Market open Friday-Sunday
Friday - Gazebo Long Park
Saturday - Gazebo Long Park
Sunday - Gazebo Long Park