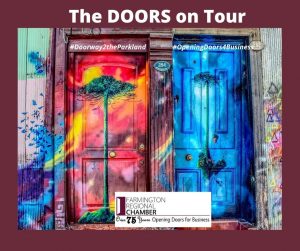 #Doorway2theParkland     #OpeningDoors4Business
What is the "DOORS on Tour"?
Talented local artists are designing and decorating solid wood doors to be displayed outdoors throughout the community and sponsored by local businesses, essentially creating an outdoor museum of local artwork. The DOORS on Tour provides a fun activity for people of all ages while also giving our community a memorable symbol for visitors and residents.
The DOORS are symbolic for our community, the doorway to the Parkland, and for the Farmington Regional Chamber with over 75 years of opening doors for business. The DOORS on Tour will create beautiful photo opportunities for social media posts and is a fun activity that can be accomplished even in times of social distancing.  We believe this will be a great morale boost for our community!
Sponsor's Advantages:
Sponsors name listed on the door plaque with a QR code listing additional information about the business
Recognition at the launch reception honoring artists and sponsors
Raising your business's visibility while people visit the DOORS on Tour
The attraction of the door at your location will draw foot traffic and visitors to your business location
Increased social media presence as individuals utilize the DOORS for photo opportunities
Promotion through newspaper, radio and social media as the project launches
A beautiful demonstration of your business's active participation in the community, focusing on the common good
Each door will include a sign with the sponsoring business's name, artist's name, the Farmington Regional Chamber logo, and a QR code that will invite users to view the map of all the door locations along with the sponsor's information and the artist's bio.
The Farmington Regional Chamber will coordinate with the artists and install the doors.
The art doors will remain up for 2 years, at which point they will be auctioned off to the highest bidder. The winning bidder will designate a local non-profit of their choice to receive the amount of their bid.
Sponsorship for a door is $1,500 and may be split between businesses if they agree upon the location.
We will be launching the project with an exciting contest encouraging the community to visit all the DOORS on Tour!
The Farmington Regional Chamber will launch a marketing campaign including social media, radio, and newspaper to promote the DOORS on Tour. #Doorway2theParkland #OpeningDoors4Business
The availability for sponsors for DOORS on Tour is limited by the number of available artists so, if you're interested in sponsoring a door call us today!  We plan to have the DOORS on Tour installed around the first part of October so, artists are being assigned and beginning work now in order to have them completed in time for beautiful fall weather!